Waxing hurts; so does plucking. Shaving takes time. All three come with the daily inconvenience of stubble, missed spots, ingrown hairs and irritation – not to mention cuts, red bumps or razor burn.
Laser hair removal presents an alternative, keeping your skin smooth without the constant work of having to maintain it. It does so by permanently reducing the volume of hair re-growth on your body.
I had my underarms done, and I noticed a side benefit; NO BUMPS! I had no idea how badly those razors treated my skin. This is a must-do treatment!
Where can I have hair removed?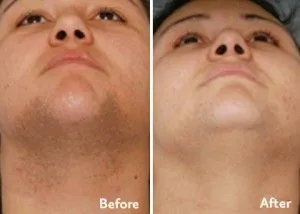 Treatments can be performed anywhere you like (except eyes). Laser hair reduction is a great investment in the overall look of your body. You may need anywhere between 5-10 treatments depending on the area of the body and the color of your hair.
How does laser hair reduction work?
At Aesthetic Center of Lubbock, we use the Sciton BBL Intense Pulsed Light system or the Sciton ClearScan YAG. During laser hair removal treatment, light passes through the skin's surface, where it's absorbed by a pigment (melanin) in the hair follicle and converted into heat. This heat damages the follicle, inhibiting future hair growth, without harming any surrounding tissue.
What is the ClearScan?
ClearScan allows your physician to precisely treat visible vessels, broken capillaries, spider veins, vascular lesions and discoloration of your skin by using laser energy. Your treatment will be tailored to match your skin condition and desired result.
What will the ClearScan do?
Your physician will use ClearScan to restore your skin tone and color. Broken capillaries and other visible vascular structures will be gently eliminated from the upper layers of your skin surface. Unwanted vessels will be preferentially heated by the laser energy and become less noticeable.
What conditions can be treated?
Rosacea
Redness
Facial Veins
Telangiectasia
Spider Veins
Broken Capillaries
What areas can be treated?
All skin areas can be treated. Popular areas are the face, neck, chest and legs. Discuss your needs with your physician.
How long will it take to recover?
Your healing time will depend upon your actual treatment. In most cases, there is virtually no downtime and you may resume daily activity immediately. You may experience some redness after the procedure. Your physician will answer questions about temporary changes on your skin color and how they may be camouflaged.
What will happen during the procedure?
Your eyes will be protected with safety shields or glasses. Laser energy will be delivered precisely to the area of your skin being treated. You may briefly feel a warm or hot sensation as the laser pulses are absorbed by the unwanted vessels. Your procedure may take a few minutes to half an hour depending on the size of the area to be treated.
Will it be uncomfortable?
There should be little to no discomfort, however it varies from patient to patient and depends on the treatment. There is no need for anesthesia and your physician will discuss your options to properly manage any discomfort from the treatment. There should be no prolonged post treatment discomfort.
What should I expect after treatment?
Your skin will be pink temporarily but it will resolve over time. Any vessels denatured by the laser will be reabsorbed by your body over a period of time in a natural cleansing process. Most small capillaries will become invisible almost immediately, since they will no longer contain blood.