Advanced Micro-Suspension Technology™ provides an instant lift while adding volume over time.
Hollow cones with a large 3-D surface provide efficient soft-tissue suspension that reduces the risk of migration and extrusion.
Stimulates collagen production to help correct age-related volume loss and recontour the mid-face.
High patient satisfaction at 24 months post-procedure.
68% saw results immediately
71% were satisfied with the results
71% found it to be an effective treatment at improving age-related volume loss
44% rated the effect as long-lasting
Before and After Silhouette InstaLift
44-YEAR-OLD PATIENT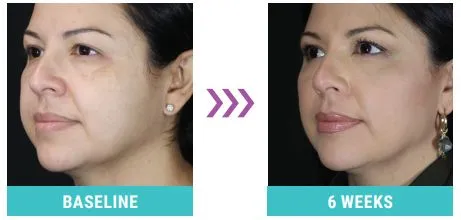 Model is a real patient treated with Silhouette InstaLift by Tam Nguyen, MD.
Patient was treated with an average of 6 to 8 sutures. Individual results may vary.
*Results may last up to 2 years. Individual technique and results may vary.
Of the initial 100 patients, complete records were available for 80 patients in the follow-up study. Results were based on patient satisfaction surveys sent 24 months post-procedure (n=34).
Silhouette InstaLift is indicated for use in mid-face suspension surgery to temporarily fixate the cheek sub dermis in an elevated position.
IMPORTANT SILHOUETTE INSTALIFT SAFETY CONSIDERATIONS
The Silhouette InstaLift device should not be used in patients with any known allergy or foreign body sensitivities to plastic/ biomaterial or in situations where internal fixation is otherwise contraindicated, (e.g. infection.) The device should also not be used in patients appearing to have very thin soft tissue of the face in which the implant may be visible or palpable.
Like all procedures of this type there is a possibility of adverse events, although not everybody experiences them. These adverse events include but are not limited to infection, minimal acute inflammatory tissue reaction, pain (which may be temporary or persistent in nature), swelling and oedema, transient haematoma or bruising and transient rippling or dimple formation. For further safety or product information, please consult your physician.
To report a side effect with Silhouette InstaLift, please send the details to [email protected].
Please visit www.instalift.com or talk to your doctor for more information. The Silhouette InstaLift device is available only through a licensed practitioner. Silhouette InstaLift is sourced and manufactured in the U.S. To learn more about Silhouette InstaLift, visit InstaLift.com.
Do age-related skin concerns have you down?
Instantly lift your loose facial skin and elevate your perspective on life. Silhouette InstaLift is a pioneer of non-surgical
threadlifts and offers both an immediate lift and a gradual boost in collagen production. Results last long term.
The first FDA-cleared threadlift approved for facial indications
No surgery, minimal downtime
Instant, visible results
Lift lasts long term
Proven Results
At just 1 week post treatment, when patients were asked about their experience:
79% were satisfied with the results
82% would recommend InstaLift to others
96% found InstaLift to be tolerable
At 3 months post treatment:
83% found InstaLift to be effective in improving age-related change
At 24 months post-procedure:
71% were satisfied with the results
71% found it effective at improving volume loss
How It Works
Silhouette InstaLift is a unique treatment with a dual effect. It instantly lifts sagging skin in the mid-face and gradually adds volume over time.
Instant Results
Resorbable PLGA threads with patented bidirectional micro-cone technology provides instant lift and corrects sagging skin in the mid-face for a more youthful look.
Gradual Enhancement
Silhouette InstaLift also adds volume over time by boosting natural collagen production.